When signing up for chat apps like Telegram, Signal, Whatsapp and others, you are often required to provide a mobile phone number for identity verification purposes through receiving SMS messages.
There are privacy ways you can use to create these accounts anonymously, without the need to reveal your personal mobile number and without a SIM card.
This article will list down all the methods you can use to create an anonymous account in Telegram, Signal or any other apps or web services.
How to sign up for an anonymous account on Telegram?
Here are the three (3) different methods you can use to create an anonymous account without needing a SIM card number or giving out your personal number.
Method 1. Get a Virtual SIM mobile number
This method requires you to download a virtual phone number app that gives you a new mobile number based on the country that you choose from.
This type of virtual SIM app separates your primary mobile number by giving you a separate SIM number, a separate phonebook, receiving and sending SMS messages on that number and much more.
Use any of the following second phone number apps;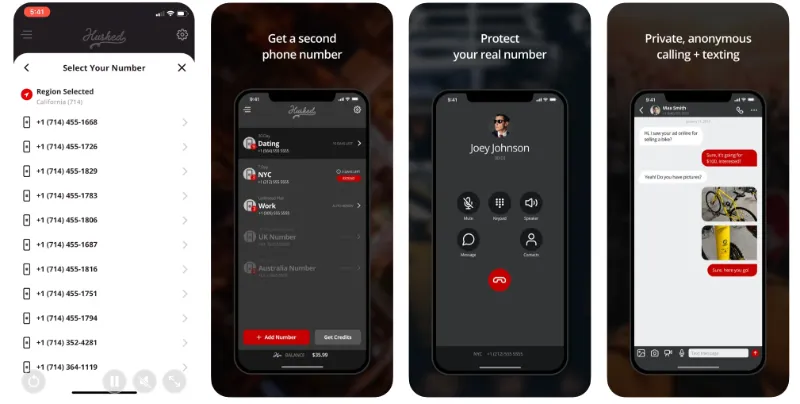 Hushed, for example, allows users to choose mobile numbers from the US, Canadian and UK regions. Users can add as many multiple lines as they wish for different purposes such as personal, business, leisure, etc.
Some of the useful features of Hushed are;
Calling – Make and receive anonymous calls with Hushed numbers
SMS – Send and receive private and secure SMS text, images and audio messages
Voicemail – Custom Greeting for each Hushed number
Call Forwarding and Call Routing
Auto-Reply Messages
---
Method 2. Receive Online SMS verification
This method is suitable for those who want a quick SMS verification from apps, such as signing up for Telegram or from web services, such as creating a new Gmail or Facebook account.
Simply use the SMS mobile number and receive the SMS verification code.
Use any of the following online SMS verification services;
OnlineSIM, for example, allows users to buy SMS verification services for short and long-term renting purposes.
Some of the useful features of OnlineSIM are;
Choose from over 30 countries and more than 10,000 numbers.
Users can choose if they want to receive SMS verification from only one site (one-off disposable mobile number) or
Users can choose if they want to retain the mobile number for long-term usage.
---
Method 3. Use a VOIP number
Voice Over Internet Protocol (VoIP) services are mainly cloud-based platforms that provide users with multiple mobile numbers in a highly-reliable platform without needing physical on-premise hardware and maintenance.
VoIP users are usually high-usage individuals and businesses who need to work remotely and work with most device types, desktop computers and mobile devices.
Use any of the following VoIP providers below;
Some of the useful features of RingCentral are;
Call, text, fax or chat in one single app
Suitable for businesses with remote teams that require communication and collaboration
Built-in analytics for monitoring call quality, usage, alerts, etc
Call-forwarding feature
Optional to choose a toll-free vanity number.
---
Summary
You can use virtual phone numbers and online SMS verification services for any web services (e.g. creating a new Gmail account, signing up for Facebook, etc.) and for any chat app registration (e.g. Telegram, Signal, Whatsapp, etc.).
While creating a new anonymous Telegram or Signal account is easy if you follow this post above, you may want to exercise caution not to reveal personal information about yourself online when signing up for services or communicating with others.
Consider getting a long-term virtual number (e.g. Hushed or OnlineSMS) since apps like Telegram, Signal, and Facebook may prompt users to verify their mobile number again after a period of time. This happens from time to time as a form of an enhanced identity verification process.
Retaining your virtual number, in this case, will help you to retain your app or web service account.
---