A virtual SIM phone number app (often called a second phone number app) allows users to have multiple numbers for different purposes, such as personal, work, social media, etc.
One of the main benefits is that there is no need to carry an extra SIM card or hold a different phone when using a virtual SIM phone number app, as all the numbers are stored within the app itself.
A VoIP service (Voice over Internet Protocol) is usually used in such apps, and calls are routed through the device's data connection.
Why use a second phone number app?
Here are some of the main reasons to do so;
Protect yourself from spam and junk calls and texts
Separate personal profile from work, business, dating, entertainment, social media, etc
Privacy with no connection to personal number
| | |
| --- | --- |
| Hushed | BEST for Individuals who want secondary (or more) mobile numbers |
| Sonetel | BEST for Businesses/Entrepreneurs |
| Numero eSIM | BEST for Data-Only Plan (anywhere overseas) |
What are the Best Virtual SIM Phone Number Apps?
Here are the 21 Best Second Phone Number Apps you can consider using;
---
1. Hushed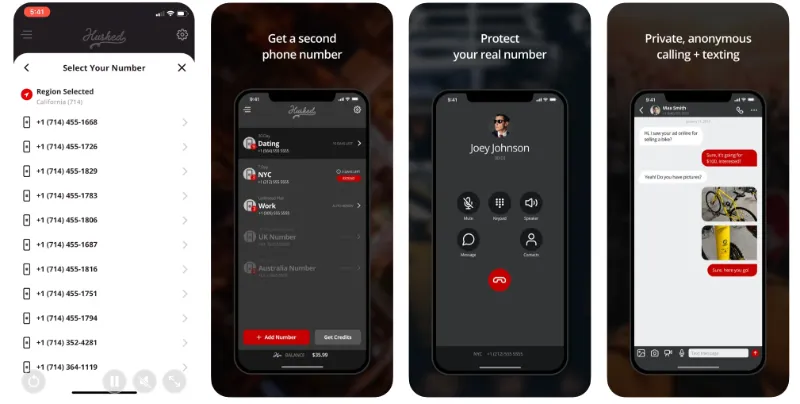 Hushed allows users to choose mobile numbers from the U.S., Canadian and U.K. regions. In addition, users can add as many multiple lines as they wish for different purposes such as personal, business, leisure, etc.
Calling – Make and receive anonymous calls with Hushed numbers
SMS – Send and receive private and secure SMS text, images and audio messages
Voicemail – Custom Greeting for each Hushed number
Call Forwarding and Call Routing
Auto-Reply Messages
---
2. Numero eSIM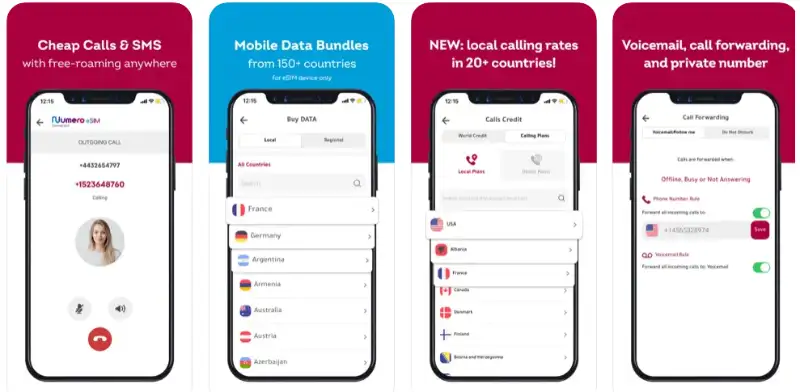 Numero eSIM is a virtual SIM app that gives users free incoming calls anywhere as long as they use their app. It also comes with call forwarding and voicemail services, which are helpful for businesses.
Choose a second number from over 80 countries
eSIM data-only plan available
Make local and international calls with affordable locate rates
---
3. Sonetel

If you want local phone numbers, Sonetel is the one to consider. Users can choose numbers from over 70+ countries and their different states.
Sonetel users can receive SMS in their email inbox and have the option to do call recording for both inbound and outbound calls.
Making calls to any landline and mobile worldwide
Affordable international calls, like local calls
Voice response menu
---
4. Talkroute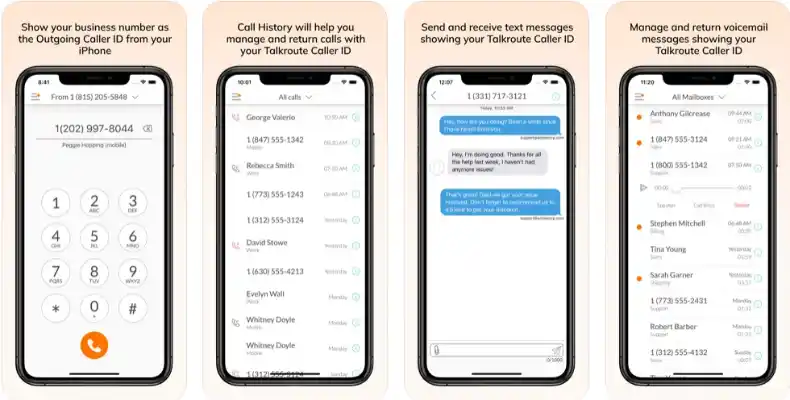 Talkroute allows you to do business calling with your desktop and smartphones. The second phone number app is a virtual phone system that gives you the ability to make & receive calls.
Unlimited 3 or 4-digit direct dial extensions
Check voicemail messages & manage voicemail boxes
Set up push notifications for voicemail & text messages
---
5. Cloud SIM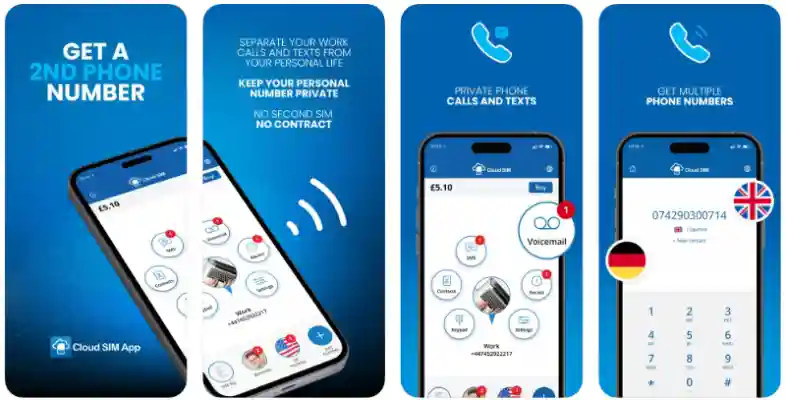 Cloud SIM app lets you have up to four (4) additional mobile phone numbers on its app. In addition, users can choose virtual numbers from the U.K., the US, Canada, France and Poland.
Receive texts and calls to your new number
Low-cost calling rates for calls or text SMS
Choose the connection type (local access, mobile data or WIFI)
Dedicated voicemail for each separate mobile number
---
6. Sideline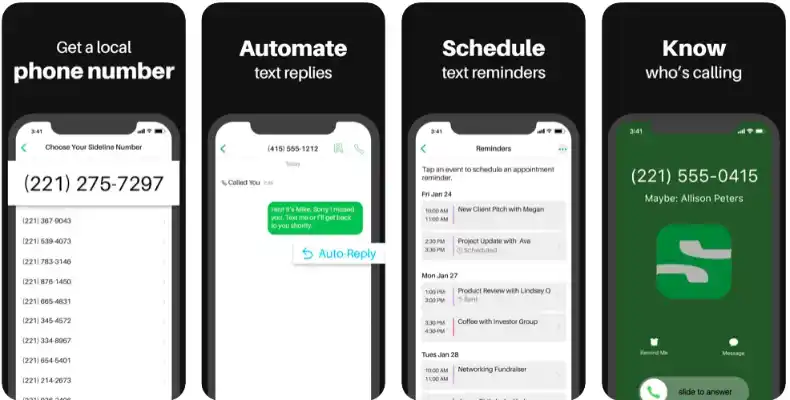 Sideline acts as a secondary phone number for personal and business usage. Users get unlimited calls, texts and auto-reply using their app.
Separate Voicemail
Web texting
Texting Marketing Tools with advanced number ID
---
7. Burner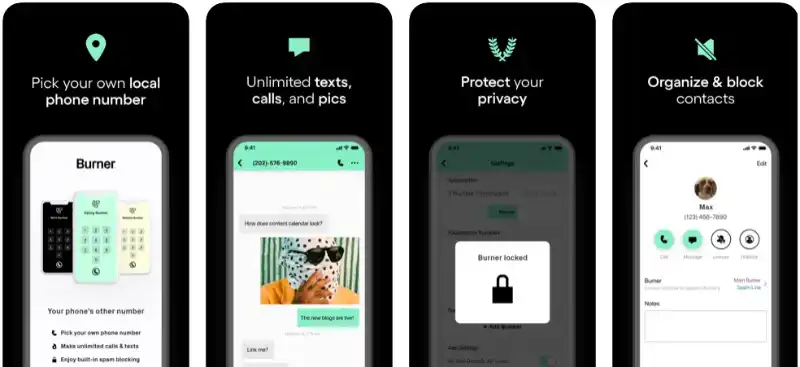 Burner app lets you create up to 3 phone numbers for various profiles, such as work, family and friends.
The app mainly focuses on mobile numbers from the U.S. and Canada. Burner numbers cannot be traced back to your personal number.
Spam call blocking and Do-not-disturb settings
Muting and blocking features
Delete burner number anytime
---
8. Vyke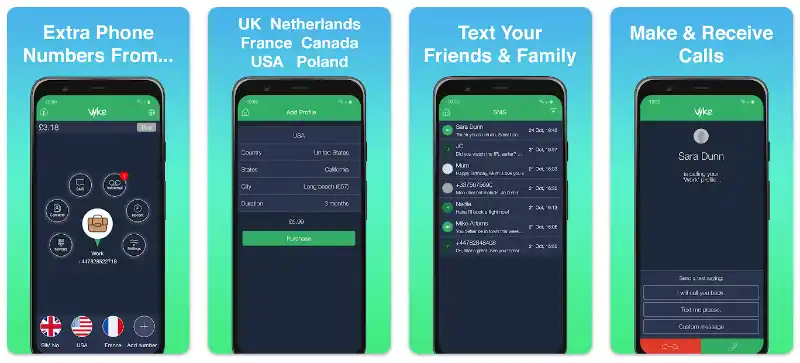 Vyke allows you to have up to 4 extra mobile phone numbers on your existing smartphone while allowing its users to chat and text for free.
Choose international numbers from U.K., USA, Canada, Holland and Poland
Personalized voicemail on each profile
Customized each Vyke profile
Caller ID feature
---
9. Line2
Line2 is a secondary phone number app that uses your internet connection for inbound and outbound VoIP calls and text messages.
It supports calling and texting anyone in the U.S. and Canada via WiFi or your cellular network.
V.M. transcriptions – your voicemails being transcribed into written format and sent via email to you
Voicemail recording
Call blocking (e.g. telemarketers, auto-dialers)
---
10. Telos

Telos allows you to easily set up multiple phone lines without swapping your SIM card.
You can set up voicemail, auto-reply messages and block unwanted calls and messages.
Choose new numbers from the US, Canada, UK, China and Belgium.
Make affordable international calls to any mobile/landline worldwide
Call recording and option to email your recordings
---
11. Dialed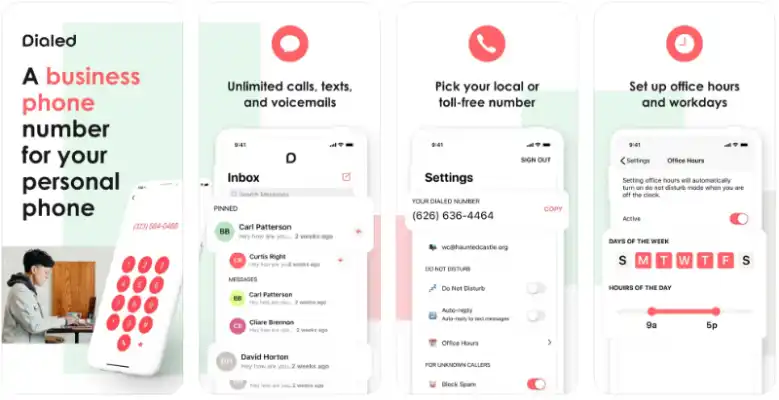 Dialed is a second phone number all-in-one app that gives you a business phone number with contact management and marketing capabilities.
The virtual SIM app allows users to grow their businesses, build better customer relationships and increase their productivity with built-in organizational and marketing tools to manage their business contacts & communications.
Business voicemail & transcription
Customizable labels and VIP status for contacts
Muting & blocking for individual contacts
Office hours and off-hours settings
---
12. 2ndLine
If you only need numbers from the U.S. and Canada, then 2ndLine is for you.
2ndLine is a second phone number app that works on your smartphone and tablets as a full-featured business phone system, specifically designed for the privacy-conscious and professionals in mind.
Texting and calling are free to numbers in the U.S. and Canada.
International long-distance credits to place calls to other countries and territories
Voicemail and call-forwarding features
---
13. Smartline Second Phone Number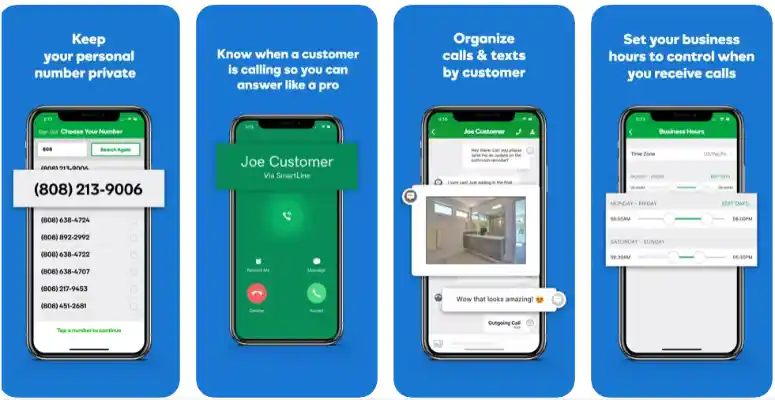 Smartline lets you choose a local U.S. phone number for calling, texting, number porting or even transferring from an existing 2nd phone number to use with their new numbers.
Smartline uses your cellular connection, unlike VoIP, which gives it more clarity and reliability.
Customize your voicemail greeting
Set business hours for when your phone rings
1-800 toll-free number is available
Spam Call Filtering
---
14. TalkU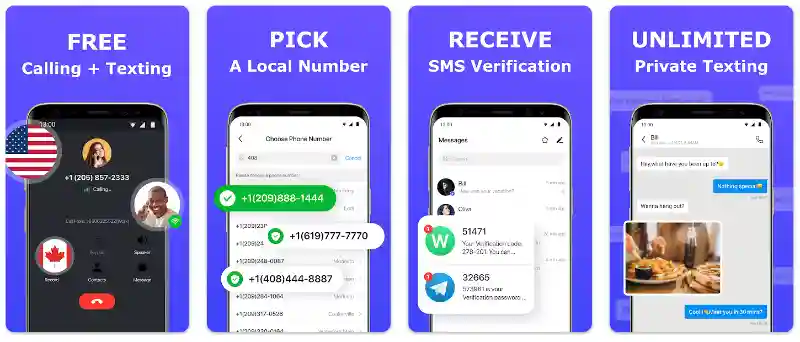 TalkU gives users a second phone number to call and text without revealing their personal number. The temporary virtual SIM phone number app is perfect for work, dating and social media signups.
For international calls, the app offers cheap low rates.
Make calls and texts to U.S. & Canada
Unlimited calling & texting between TalkU users
Voice calls are transmitted on TalkU's high-quality dedicated VoIP network
---
15. CoverMe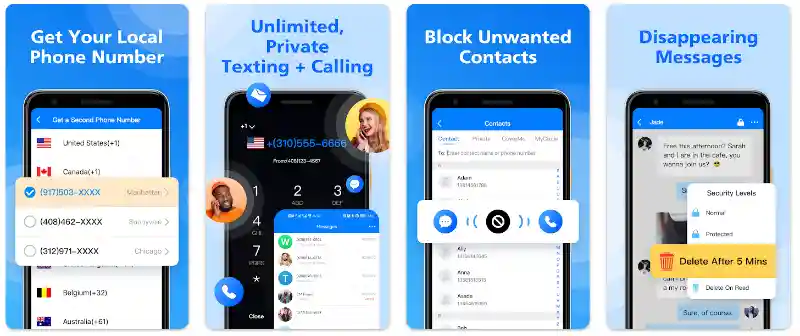 CoverMe is a second phone number app for private text messages & secure phone calls using end-to-end encryption.
The app has private messaging with disappearing messages, encrypted messages, anonymous sms, etc.
Send anonymous texts now from a second phone number
End-to-end encrypt all secret sms & messages
Disguise CoverMe with a mask app to hide all secrets and privacy
Private vault to hide photos, videos, passwords and any files
---
16. 2nd Phone Number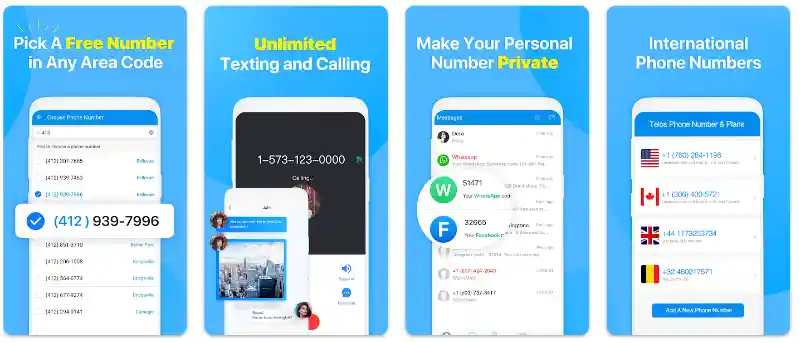 2nd Phone Number lets you choose international numbers from several countries, such as the U.S., UK, Canada, Spain, Netherlands, Sweden, etc
The virtual SIM app offers real mobile phone numbers so that it can do the same things as a cell phone number from a phone company, e.g. signing up for social media sites.
Receive calls and SMS from any person
Set up voicemail and auto-reply messages
Block unwanted calls & messages
Set up call forwarding
---
17. SmartCall

SmartCall provides a second phone number on your existing phone, and you get a U.S. mobile and landline number or any international number.
Send and receive SMS
Tag calls with a swipe gesture
Visual voicemail and call reminders
---
18. Freeje Optimum Virtual number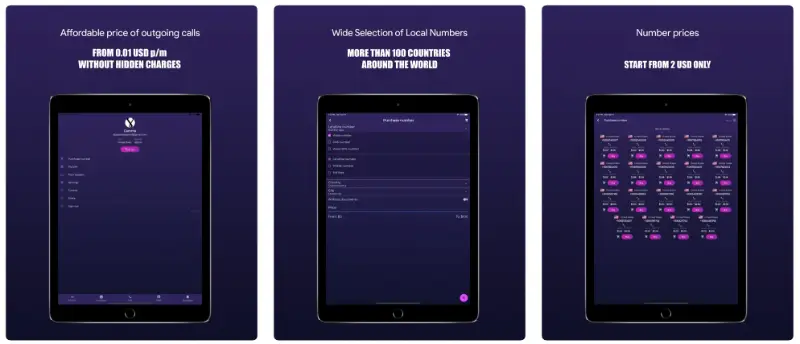 Freeje is a calling app for those looking for additional virtual numbers as a small call centre on their smartphone.
Users can choose from virtual landlines and virtual mobile numbers from more than 45 countries.
Privacy: Keep your personal and business life separate with a dedicated business number as a 2nd line phone number
SMS number for phone calls as well as for receiving SMS.
Virtual Fax Number
---
19. WeTalk International Calls app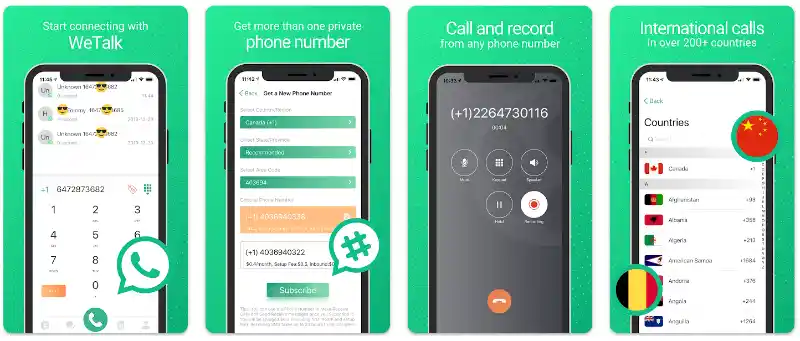 WeTalk is a second phone number to send and receive SMS/MMS/Picture messages. Choose any number from any USA/Canada region.
Enjoy calls to more than 200 different countries.
Use WiFi, 3G, 4G or LTE internet connections to make calls
Phone call recorder 
---
20. Onoff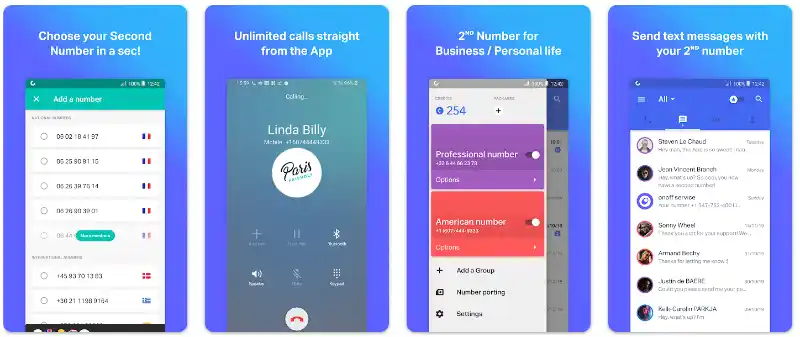 Onoff allows you to have a separate professional mobile phone line by separating your professional and personal life.
You can choose numbers from more than 30 countries available.
Unlimited calls and SMS
Integrated visual voicemail
Voice messages
---
21. Fongo World Edition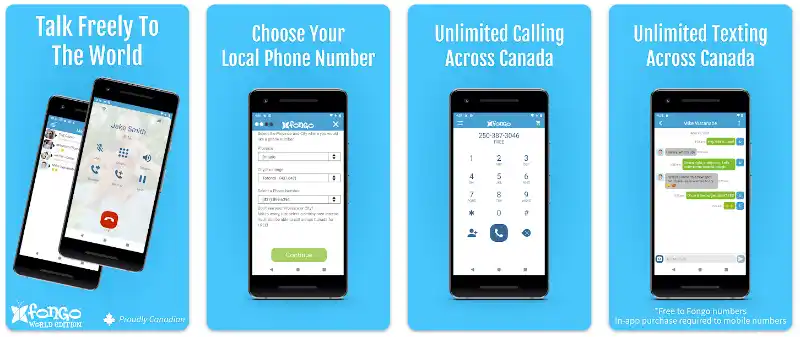 Fongo allows you to choose a Canadian phone number with unlimited calling across Canada's 10 provinces and any Fongo number worldwide.
Unlimited global incoming calls and incoming SMS text messages
Unlimited Fongo-to-Fongo texting
Conference Calling and Call Transfer
Voicemail and Call Waiting
---