We use Google Services all the time. It makes perfect sense to ensure all privacy measures on our Google accounts are in place.
Having a Google account offers a wide range of web services that one simply cannot leave without these days.
For most of us, checking our Gmail, finding information on Google Search, accessing our files in Google Drive, editing Google Docs on the go and using Google Maps for navigation have become some of our daily tasks.
Since these useful Google services contained so much data about us, it is only right for us to ensure that our Google Account is properly configured to be privacy-focused and secured.
The effort of maintaining privacy in our Google Account is an ongoing process.
This article will be updated frequently, should there be any new changes in Google's settings from time to time.
To start managing your Google account Privacy settings, click on the top-right icon in your Gmail web interface and click on "Manage your Google Account".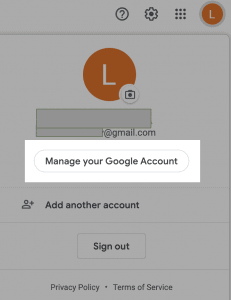 You will come to this main screen, where you will see these broad main categories.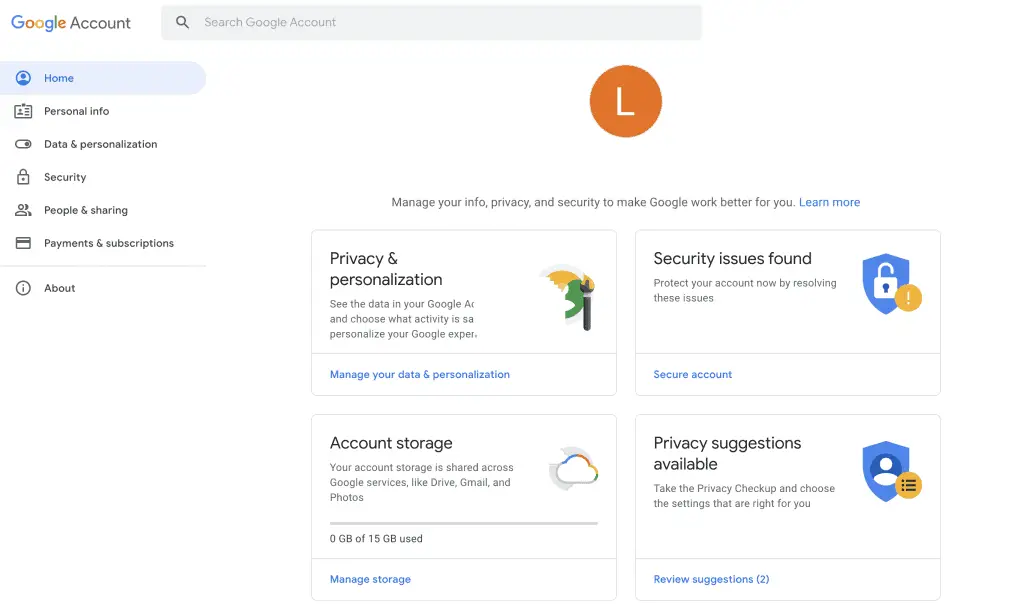 Both the left and right pane are required for privacy configurations.
As of May 2021, there are a total of 18 configurations found in 6 main categories in the Google Account settings page that you need to take note of.
Consider configuring your Google Account as such;
Privacy & Personalization
| Settings | Recommendation | Privacy Concern |
| --- | --- | --- |
| Web & App Activity | OFF | Will not save your Google Searches and apps activities such as Maps location |
| Location History | OFF | Will not save your location. No Places recommendation and no traffic updates. |
| Youtube History | OFF | Will not have Watch History on Youtube and video recommendations based on your recent watch interests. |
| Ad Personalization | OFF | Your online browsing activities will not improve the ads you see |
| My Activity | Delete | Delete all your past activities here |
| Timeline | Delete | Make sure there is no more location history on your movement |
| | | |
Security issues found
Settings
Recommendation
Privacy Concern
Your devices
Add/Remove
Make sure the devices listed here are your trusted devices. Remove obsolete and unwanted devices if any
2-Step verification
All 4 ways
Add Google sign-in prompt,
Add Authenticator app,
Add a Phone number and
Add Recovery email
Recent security activity
Check
Make sure there are no suspicious security-related logins to your account
Your saved passwords
Check
Make sure there are no compromised passwords
Privacy Checkup
Settings
Recommendations
Privacy Concern
Phone numbers reviewed
Unchecked
* Better sharing on Google
* Help people identify you via this number
About You Reviewed
Unchecked
Edit your shared endorsement settings
Personal info
Settings
Recommendations
Privacy Concern
Photo
Leave it empty
It is not mandatory to provide a profile picture
Gender
Rather not say
This is an option that you can use for privacy purposes
Choose what others see
Leave it empty
* About (places, links)
* Work and education
People & sharing
| Settings | Recommendations | Privacy Concern |
| --- | --- | --- |
| Your family on Google | Leave it empty | If possible, do not add any family group here |
| Contact info from your devices | OFF | Will not save your Contacts across your devices under the same Google account. |
| | | |
Payments and subscriptions
| Settings | Recommendations | Privacy Concern |
| --- | --- | --- |
| Payment methods | Leave it empty | Will not create a Google Pay payment method and will not ask you for your credit card information |
Conclusion
When you have set up your Google Account in this way, you should be set for optimum web privacy while enjoying Google's web services.
However, for the more privacy-conscious individuals, this is definitely not enough.
Maintaining online privacy with a high level of anonymity begins with various considerations; such as;