You want to maintain a certain level of privacy and anonymity online when using your Google account.
Securing your Google account involves setting up privacy settings and controls so that you control what gets delivered to you (e.g. targeted ads) and what the public can know about you (e.g. your profile using Google services).
We use Google services all the time, such as Gmail, YouTube, Google Drive, Google Maps, Google PlayStore, etc.
Besides using your Google account as an email address (Gmail), it can also act as a gateway to register for other Non-Google sites, such as Reddit and Quora.
Since all these useful Google services contain so much data about us when we use them, it is only right for us to ensure that our Google Account is configured correctly to be privacy-focused and secured.
How to Configure Privacy Settings and Controls in Your Google Account
To start managing your Google account Privacy settings, click on the top-right icon in your Gmail web interface and click on "Manage your Google Account".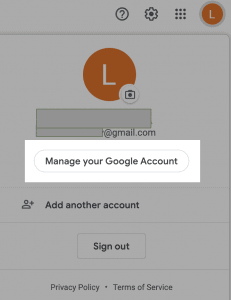 You will come to this main screen to see options on the left pane.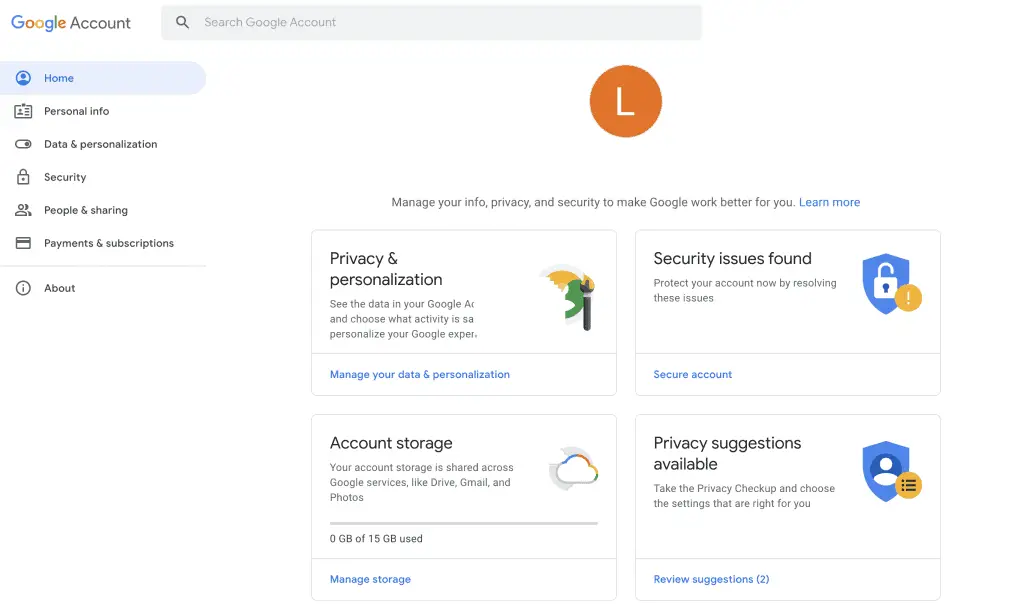 The left pane is required for privacy configurations.
Let's go through them one by one here.
---
Personal info
| Settings | Recommendation | Privacy Concern |
| --- | --- | --- |
| Photo | Leave it empty | Do not include any profile pictures. |
| Name | Random | You decide on your persona profile, e.g. Asian, Canadian, American, etc |
| Birthday | Random | Choose a fake birthday date (but you must remember it easily) |
| Gender | Rather not say | Leave it as unsaid is better than choosing any gender. |
---
Data & personalization
| Settings | Recommendation | Privacy Concern |
| --- | --- | --- |
| Web & App Activity | Paused | It will not save your Google Searches and apps activities such as Map's location. |
| Location History | Paused | It will not save your location. No Places recommendation and no traffic updates. |
| Youtube History | Paused | You will not have Watch History on Youtube and video recommendations based on your recent watch interests. |
| Personalization ads | OFF | Your online browsing activities will not improve the ads you see |
| Personal results in Search | OFF | Your Google search results will not be personalized to your profile |
| Location Sharing | Not sharing with anyone | Disable real-time location sharing from your devices with others you choose, such as Family Link and Google Maps |
---
Security
Settings
Recommendation
Privacy Concern
Your devices
Add/Remove
Make sure the devices listed here are your trusted devices. Remove obsolete and unwanted devices, if any
2-Step verification
ON, all four methods, if possible
Add Google sign-in prompt,
Add the Authenticator app,
Add a Phone number and
Add Recovery email
Recovery email
Protonmail
Use a secondary email, e.g. Protonmail, for your account recovery. Do not use another Gmail account here.
Enhanced Safe Browsing
OFF
Disable any personalized protection
---
People & Sharing
| Settings | Recommendations | Privacy Concern |
| --- | --- | --- |
| Business features | OFF | Disable recommendations for tools that help to connect your business |
| Contact info from your devices | OFF | Will not save your Contacts across your devices under the same Google account. |
| Shared endorsement in ads | OFF | Disable showing your profile information that can help others to find things you are interested in |
---
Payments and subscriptions
| Settings | Recommendations | Privacy Concern |
| --- | --- | --- |
| Payment methods | Leave it empty | It will not create a Google Pay payment method or ask you for your credit card information. |
---
Conclusion
When you have set up your Google Account in this way, you should be set for optimum web privacy while enjoying Google's web services.
However, for the more privacy-conscious individuals, this is definitely not enough.
Maintaining online privacy with a high level of anonymity begins with various considerations, such as;
Using the right search engine for your privacy searches
Using a privacy web browser for web surfing
Proper web browser configuration
Surfing the internet using an IP address other than yours for anonymity
The mobile device that you are using
The computer device that you are using
The apps and web services that you choose to use