Connecting to a Switzerland VPN Server and showing you the various speed test results from 9 different speed test sites.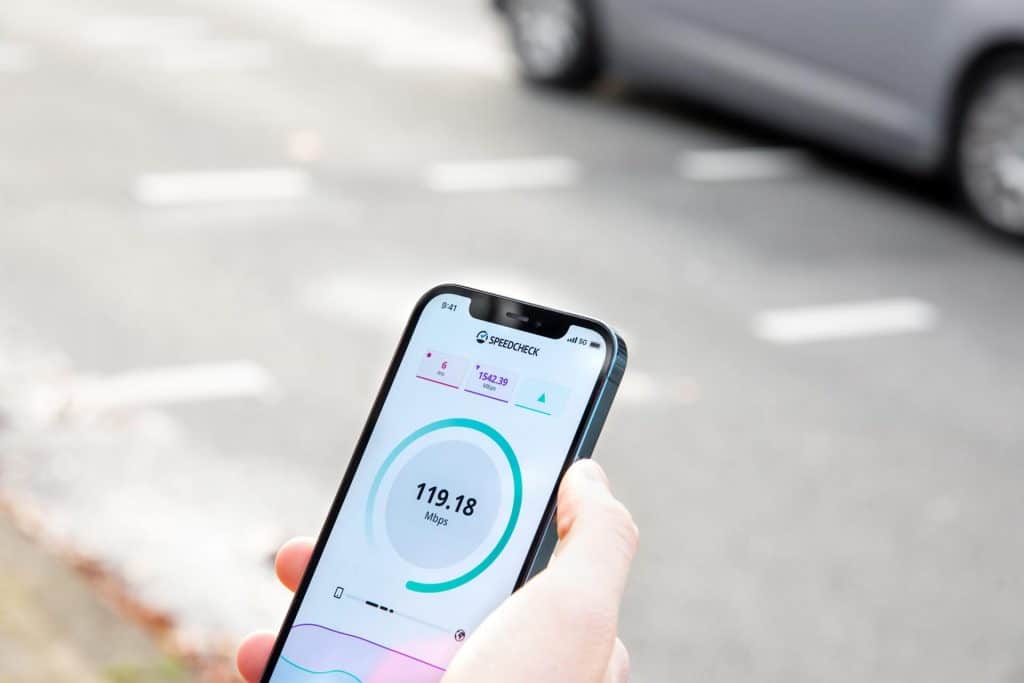 Interested to know how fast ProtonVPN Servers really are?
Are you thinking of streaming videos like Netflix while connecting via a reliable and fast VPN service?
Or simply downloading files from Bit torrent sites without worrying about download speeds?
In this article, I conducted speed tests using ProtonVPN's Switzerland VPN Server across 9 different speed test sites to deliver all the results.
Watch the full video here.

Here are the 9 different speed tests sites used and their respective results.


Experiment Condition
These are the conditions that were applied in this experiment.
| | |
| --- | --- |
| Machine used | Apple Macbook Pro (2018) model |
| Internet connection | Residential Fiber from ISP |
| Connectivity | Wi-Fi |
| ProtonVPN Server used | Switzerland |
Ookla Speed Tests are used by millions each day to collect information about the performance and quality of networks.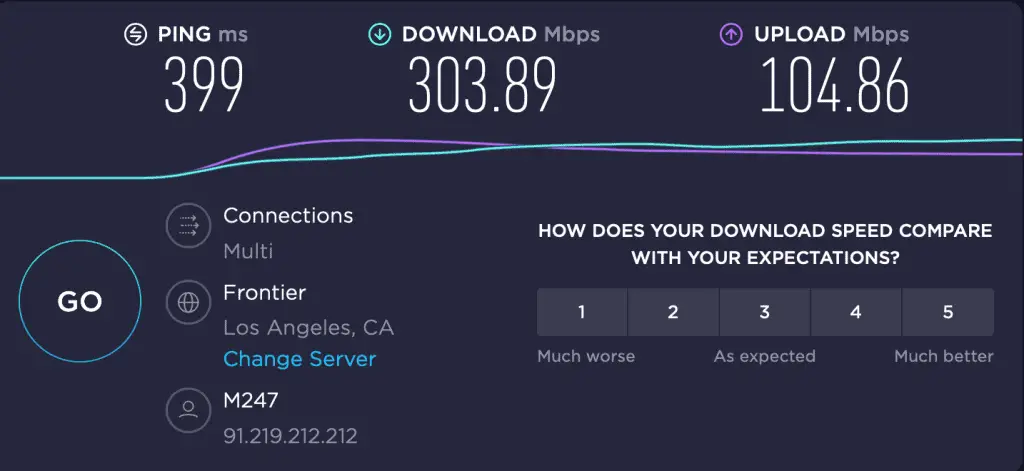 Ookla clocked a download speed of 303.89 Mbps and an upload speed of 104.86 Mbps for the ProtonVPN Server.
Netflix launched its own Speed Test Site in 2016 and called it Fast.com.
The main aim here is to focus on download speed, which is the important metric that determines Netflix's user's video quality.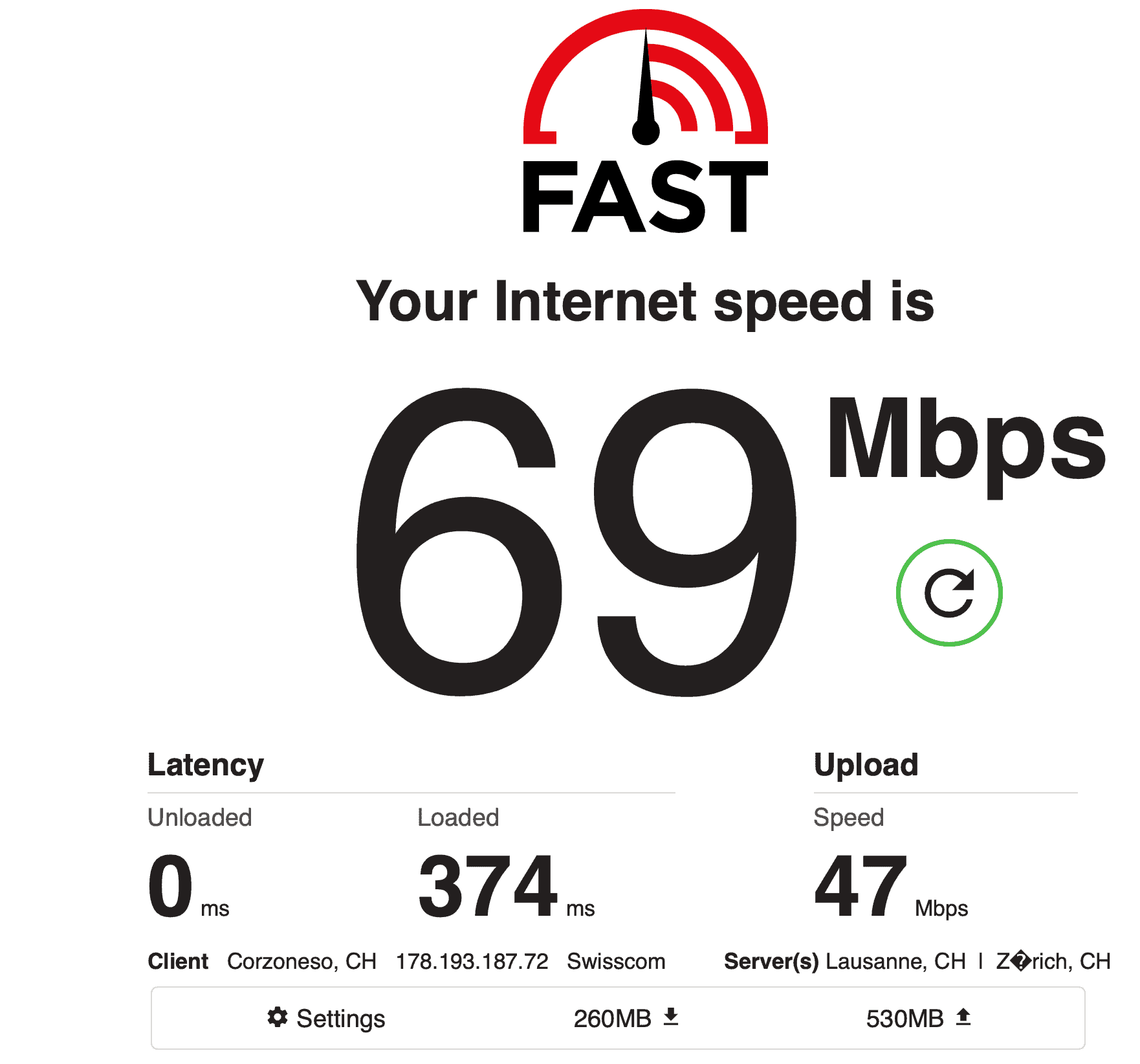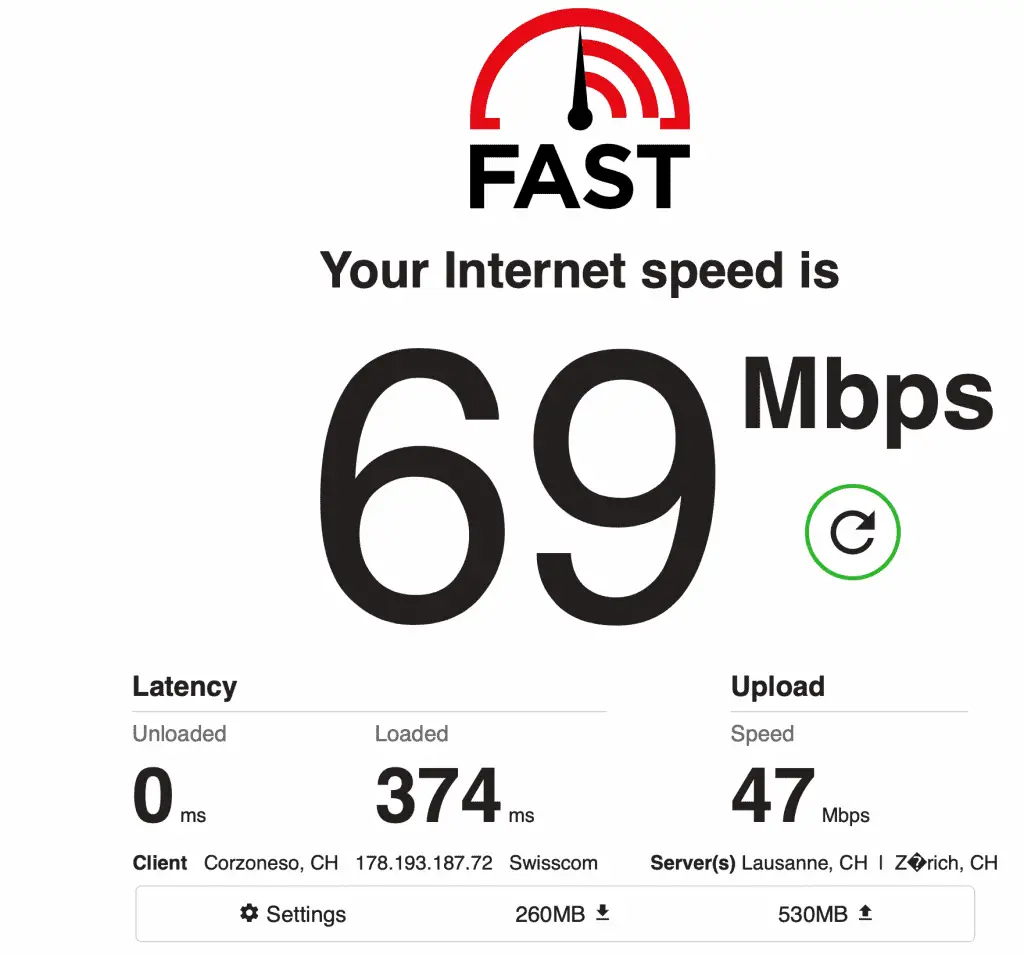 So if you are concerned about video streaming download, then this speed test is for you.
ProtonVPN Switzerland Server clocked a 69 Mbps download speed, which is perfectly acceptable if you use it for Netflix viewing.
In another experiment connected to a USA Miami Server, the download speed test was a whopping 150Mbps.
In other words, you can try out different countries servers to suit your speed preferences.
SpeedCheck delivers a result of 322.18 Mbps of download speed and 148.09 Mbps of Upload speed.
Measurement Lab (M-Lab) offers a large collection of open internet performance data, including checking for network speeds and latency to blocking and throttling.
M-Lab results indicate a download speed of 85.73 Mb/s and 40.19 Mb/s of upload speed.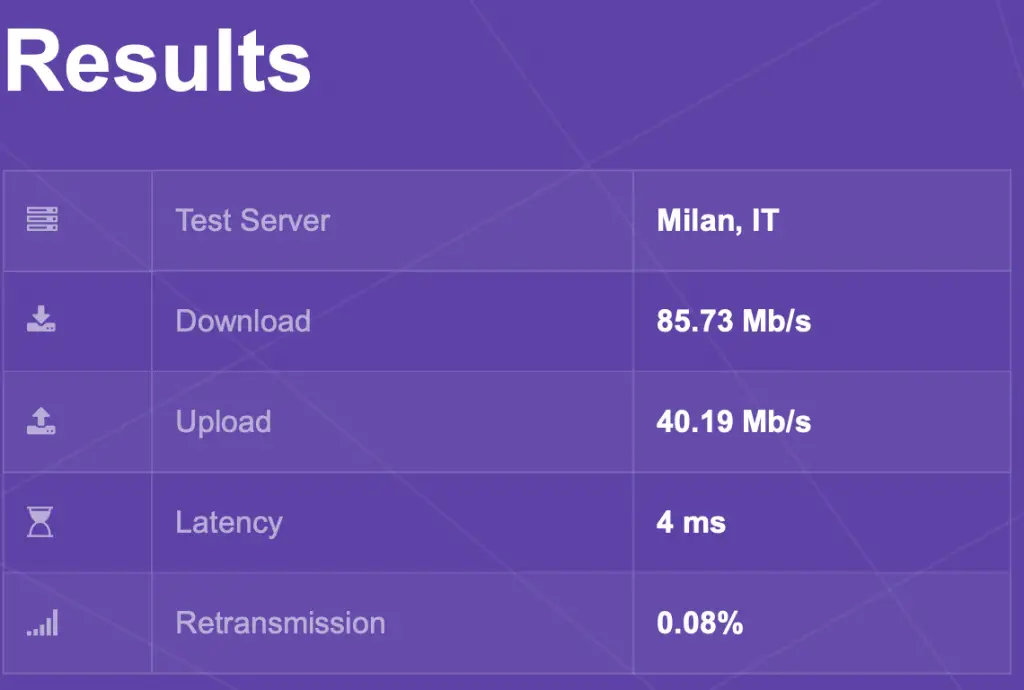 A popular speed test site tests our internet connection via directly downloading & uploading sample files from our web browsers to reflect actual browsing and download experience.
SpeedOf.Me clocked a download speed of 122.86 Mbps and 17.5 Mbps of upload speed.
Just type in "Internet Speed Test" into your Google Search, and you will be presented with the opportunity to run a free speed test on your internet connection.
Google returns a download speed of 37.1 Mbps and an upload speed of 39.8 Mbps while running on ProtonVPN Switzerland VPN Server.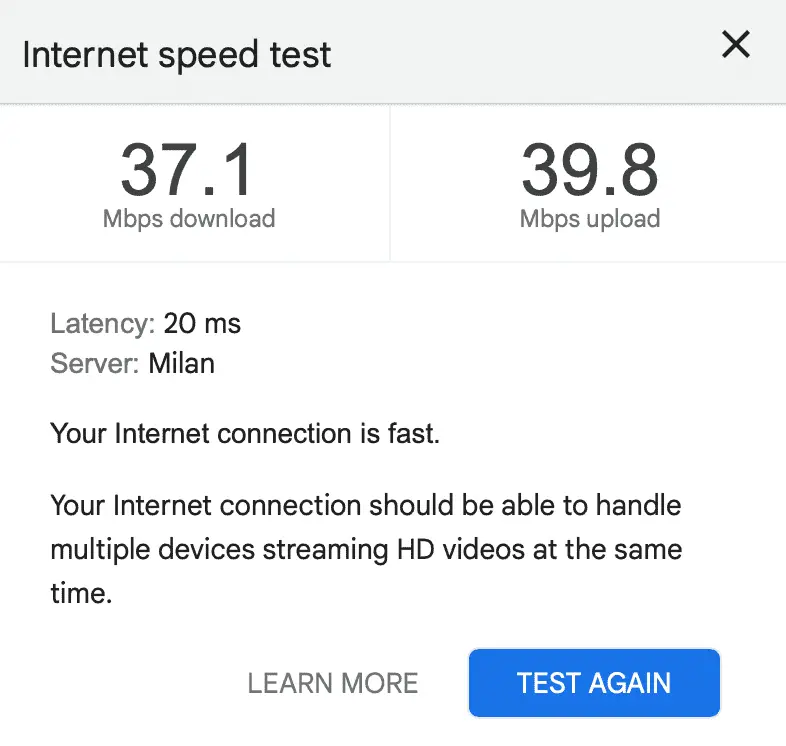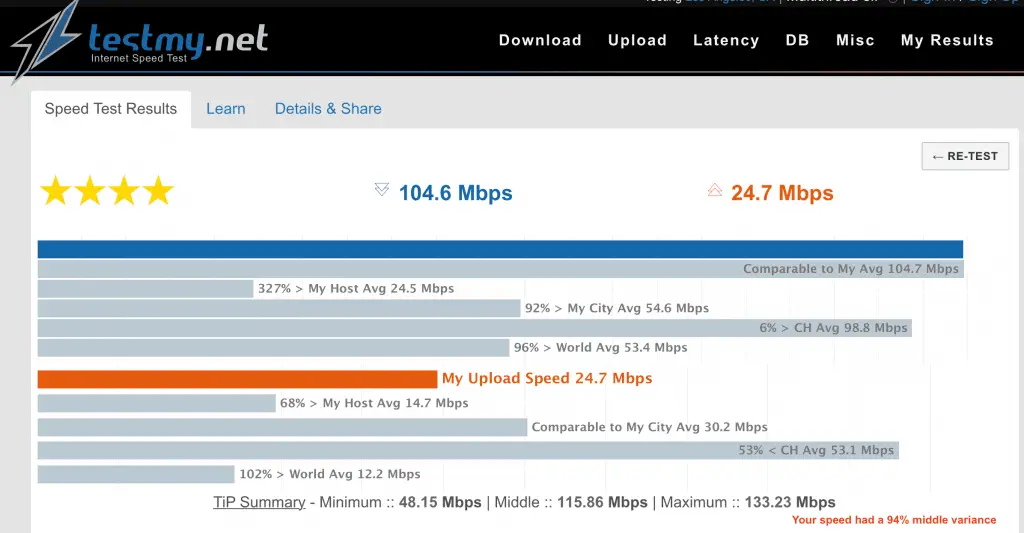 TestMy.Net delivered a download speed of 104 Mbps and an upload speed of 24.7 MBps.
Xfinity indicated a download speed of 382.6 Mbps and an upload speed of 1.8 Mbps.

SpeedSmart declared a speed test result of over 388 Mbps of download speed, with an upload speed of 89.55 Mbps.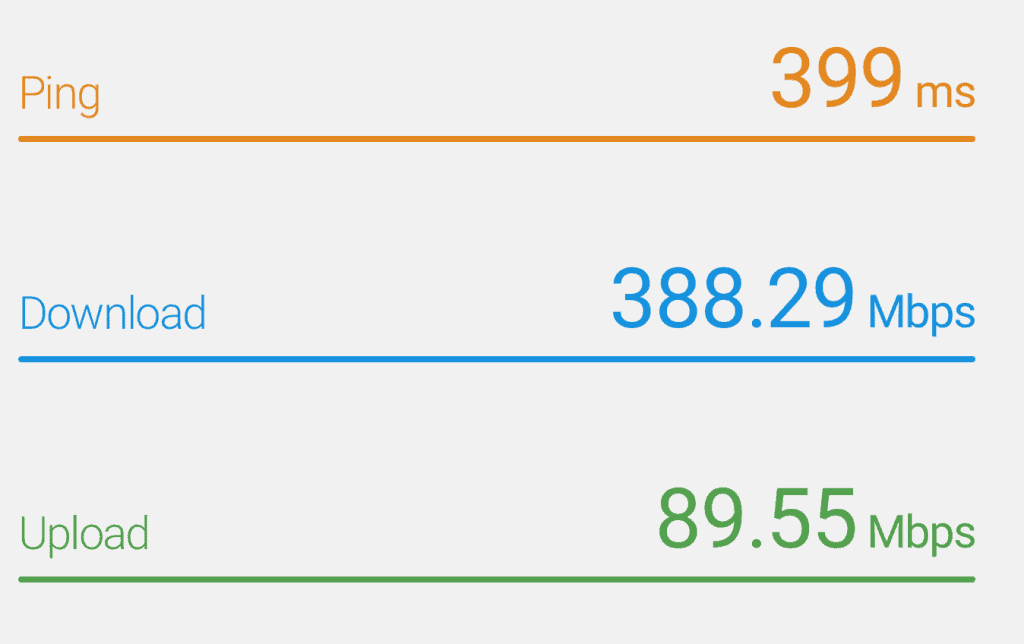 Conclusion
We know for sure that different speed test sites offer different types of testing through this experiment, some of them focusing more on download speed while others are more comprehensive in nature.
Results also vary.
The key takeaway is that ProtonVPN allows us to choose different country servers that suit our needs.
If you find Switzerland VPN Server to be a little slow compared to where you are physically located, you can always choose another VPN country server that is nearer and faster to you.