Whether you are a Macbook or an iPhone, these are the truly secure encrypted notes app that you can use for macOS and iOS devices.
Popular notes apps like Evernote, Microsoft OneNote, and even
What makes a great secure notes app?
Firstly, the encryption algorithm must be robust, for example, using Advanced Encryption Standard (AES-256).
Secondly, it should support data syncing across different devices and in this case, it must adopt end-to-end encryption (E2EE).
Lastly, this is optional, but it will help significantly if it supports manual backup, import and export of notes databases. Users can easily store or transfer their old notes to other note-taking apps quickly in this way.
Let's take a look at these nine (9) secure note-taking apps now.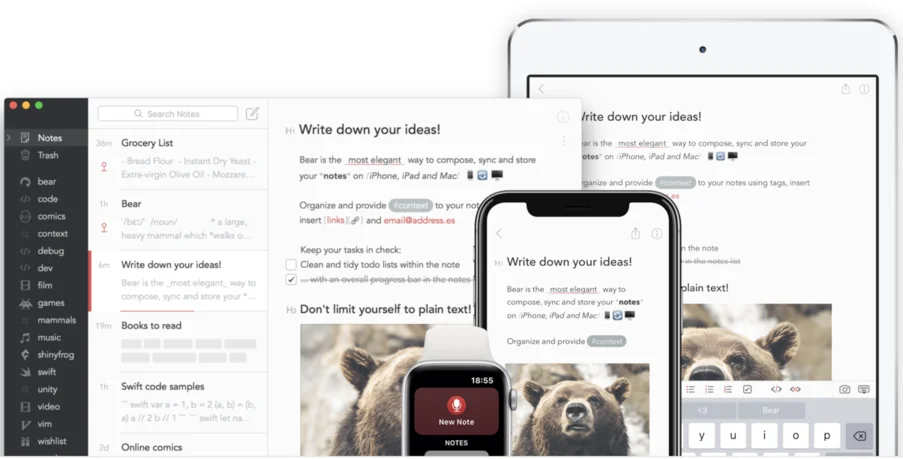 Encryption used: Notes are secured via the Themis Open Source library (AES-GCM-256 with ZRTP KDF) with a per note unique encryption key.
Designed specifically and solely for Apple devices such as Macbook and iPhones, Bear Notes has a clean-looking interface that packs quite a few powerful features.
Some of its features include advanced markup options that support over 150 programming languages, a Dark mode, beautiful themes and typography, and the ability to encrypt individual notes and unlock them using Face/Touch ID.
Want to share your notes? It also has a feature that can convert them quickly into PDFs and Word docs so you can send them to your friends via other platforms.
Pros: Designed to be fully compatible with Apple devices, the technical support is dedicated and committed. There are users communities to seek assistance or learn more through social media platforms such as Reddit and Facebook.
Cons: Notes containing attachments currently cannot be encrypted together. Encrypted notes cannot be synced to Apple Watch.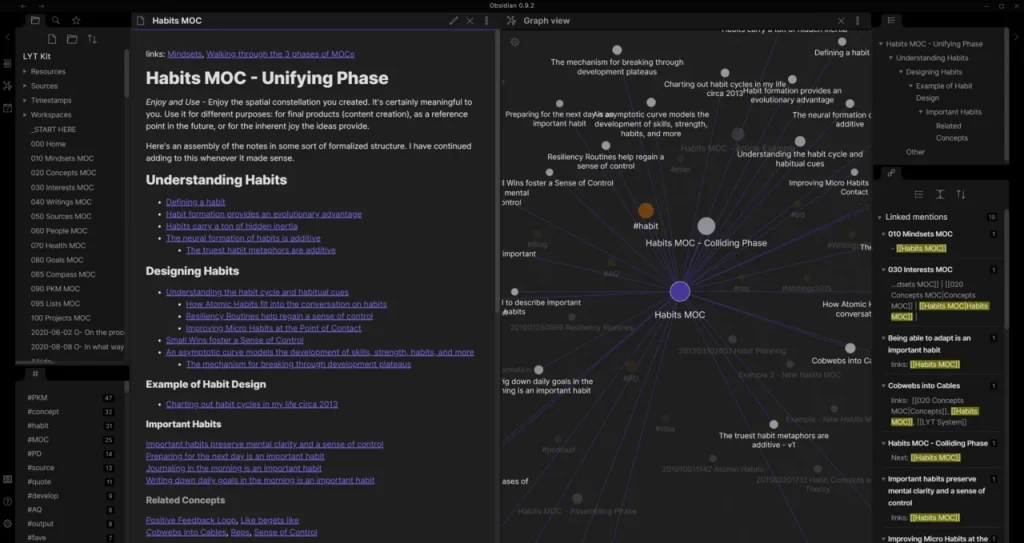 Encryption used: Advanced Encryption Standard (AES) 256 in GCM mode.
Obsidian is more than just a typical note-taking application. Instead, it strives to be a powerful knowledge manager that allows users to create and discover connections between their thoughts and ideas. The result is what they refer to as a knowledge graph.
Some of its features include preview and edit modes, standard tagging and markdown editing.
The main feature of Obisidian is its ability to use bi-directional links and have a graph view of the relationship between all your notes.
Pros: Obsidian is supported by various core and community plugins that strengthen the features, e.g. backlinks and graph view.
Cons: No web app access for those who do not want to install the app locally. Multi-word tagging is not supported.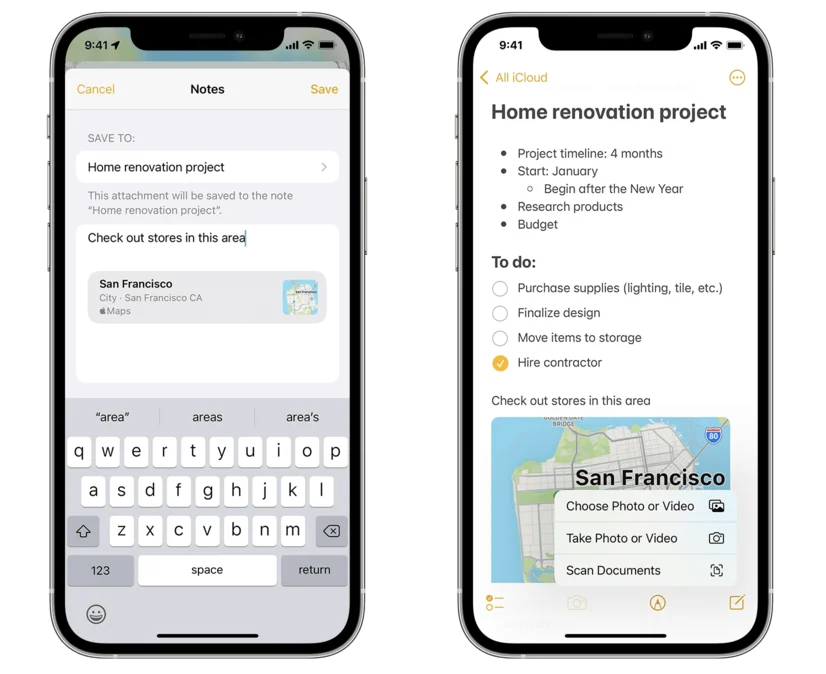 Encryption used: All notes and attachments are encrypted with AES with Galois/Counter Mode (AES-GCM). It uses E2EE as well.
The good thing here is, you do not have to install anything. Apple Notes is, of course, built into every Apple device and works right out of the box.
Some of the features include creating checklists, sketching ideas, creating folders and using embedded attachments such as PDFs, photos or videos.
Pros: Apple native built-in note-taking app. With that, it is fast and works well with all Apple devices. Simple features for the minimalist user.
Cons: It uses iCloud overall storage capacity, and this can get substantially heavy if you include various attachments. The app only supports exporting notes into PDFs format. It also lacks many features of other notes apps.

Encryption used: XChaCha20-Poly1305, one of the most robust forms of encryption available.
A plain-looking yet privacy-focused app, Standard Notes is supported by many operating systems, including Android, iOS, Windows, Mac, and Linux.
It supports rich text, plain text and markdown text formats. Other features include tasks, to-do lists, code snippets.
The biggest reason to use Standard Notes has got to be their commitment to users' privacy and strong encryption.
It uses XChaCha20-Poly1305 encryption algorithm, adopts E2EE for syncing across devices, supports 2FA and can password-protect individual notes with an extra layer of a passcode.
There is a long term revision history feature, so you can "undo" your previous notes as far as possible. You can also import and export your old notes databases for safekeeping or migrating to another notes app.
Pros: The company is committed to the long term prospect of the app—features such as tagging and customization of themes.
Cons: Plain looking and not as visually appealing as other note-taking apps. Additional formatting features requires paid plan.
Encryption used: Libsodium for all low level encryption (Chacha20poly1305 (IETF) algorithm).
Turtl uses strong high-end encryption to protect your notes. It is a secure and open-source application that works well with any form of notes content, be it for text, bookmarks, images or passwords. Import and export of notes database are also possible for Turtl users.
You can annotate web pages, PDFs, images and notes themselves. Searching through your notes can be done quickly with full-text search, tag filtering and via date timestamps.
Pros: It can be self-hosted, and you can run your own Turtl server.
Cons: You cannot embed videos inside your notes; however, you can take screenshots, perform webpage saving and document uploading.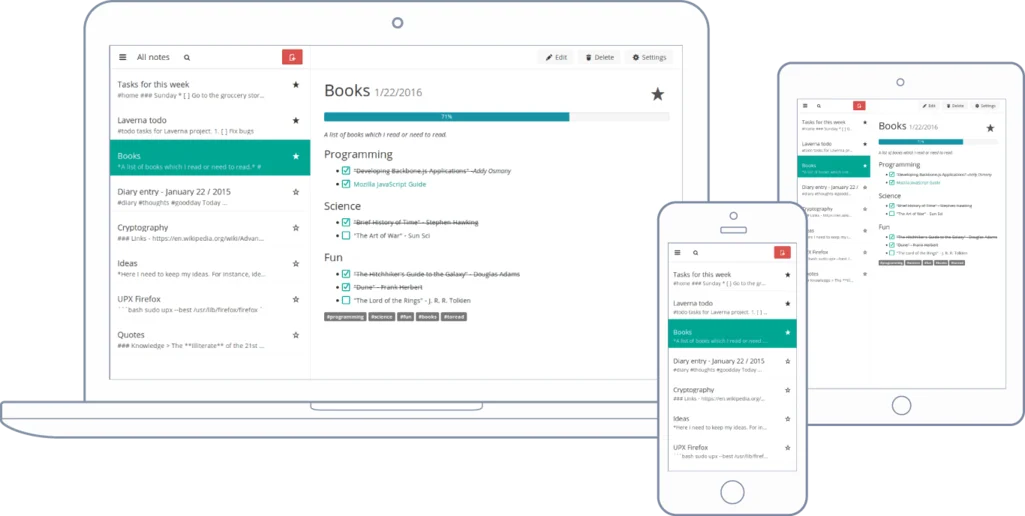 Encryption used: It uses the AES-256 encryption algorithm.
Laverna is a web-based application that has a friendly-looking note-taking interface that comes with several features. For example, you can create or manage-do lists and notes, both online and offline.
Its features include having three editing modes (distraction-free, preview, and normal mode), WYSIWYG control buttons, MathJax support, live markdown edition option and syntax highlighting.
Pros: The app allows for the option of client-side encryption and provides Dropbox cloud storage synchronization. There is no requirement to provide any personal information when registering.
Cons: There is currently no mobile app, and it is limited to web and desktop apps. However, there is one for macOS for download.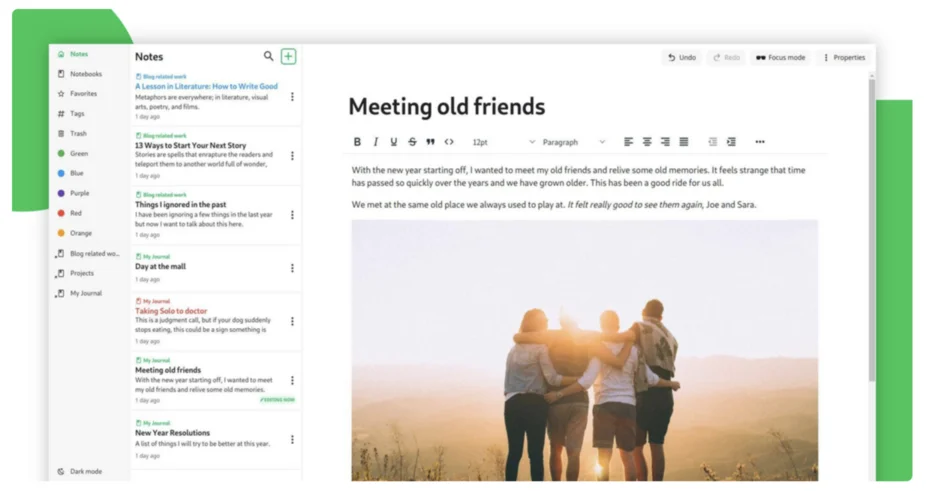 Encryption used: It uses XChaCha20-Poly1305-IETF and Argon2 to encrypt your notes and end-to-end encryption for syncing across devices.
Notenooks is an encrypted note-taking app that has no ads, no trackers and adopts no form of data mining on its users. The company takes users' privacy seriously with an additional app lock feature and E2EE for device syncing.
It can work offline as well, without the worry of internet connectivity. For syncing, its supports unlimited devices.
Pros: Ability to password protect individual notes. The app supports the importing of old notes databases from popular apps like Evernote and Google Keep.
Cons: Maximum single note size is 500MB. Attachments are not encrypted.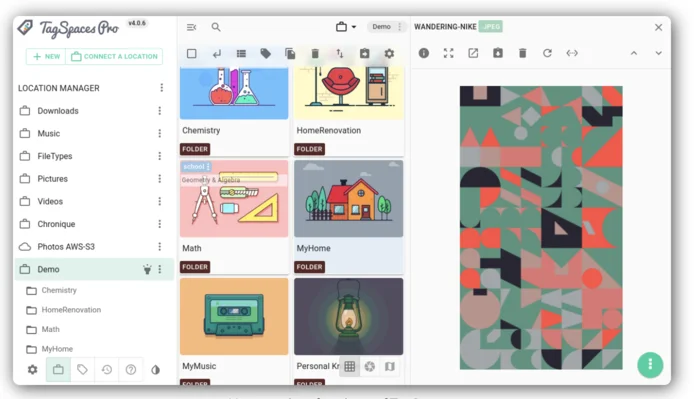 Encryption used: TagSpaces runs in offline mode. This means all your notes are stored locally on your device and is never sent to the network. 
TagSpaces is built with privacy in mind. Although they do not use any form of local encryption, the app does not need any internet or online registration to run. Furthermore, the company does not collect any user data or track users' behaviour.
Features include having a tag-based file manager to organize your files and folders. In addition, you can create notes in Markdown and HTML format using WYSIWYG text editors. To-Do lists, geo-tagging and annotation are also supported.
Pros: Ability to export data in JSON format and option to self-host on a WebDAV server if you wish to do so.
Cons: Embedding of videos inside your notes are not supported.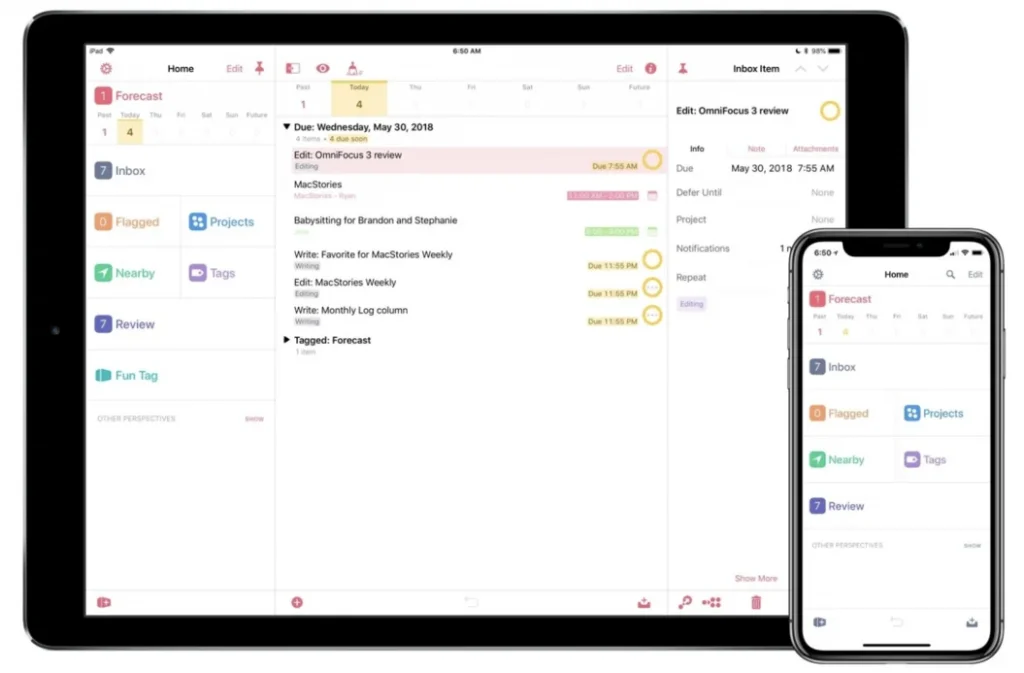 Encryption used: AES-256 in CCM mode and support end-to-end encryption.
Omnifocus is a powerful task management software that is built specifically for Mac and iOS users. If you are looking to get one for your organization, then this is one to consider seriously.
Omnifocus can sync across all devices for consistency and backup purposes.
You can set due dates for your notes by adding actions and tags into your inbox. Tagging functions can include things like location, person, priority, etc.
You can set reminders and review your-do lists and go through your projects and tasks. There is also a repeating action feature that can be fixed, e.g. on a particular day of the month. Light and dark mode is available in Omnifocus.
Pros: Built with the organization in mind. There is also OmniFocus for the Web, a browser-based version of OmniFocus.
Cons: Expensive and requires a paid plan to use most of their useful features.